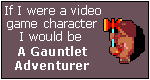 I am a Gauntlet Adventurer.

I strive to improve my living conditions by hoarding gold, food, and sometimes keys and potions. I love adventure, fighting, and particularly winning – especially when there's a prize at stake. I occasionally get lost inside buildings and can't find the exit. I need food badly.
(If you were not a Gauntlet Adventurer you would be a Defender-ship.)

You are Sam the Eagle. You are patriotic and devoted. And extremely anal.
HOBBIES:
Patriotism, Being appalled at what everyone else is doing.
FAVORITE MUSIC:
The National Anthem of America
FAVORITE MOVIE:
"An American In….America"
LAST BOOK READ:
"Men are from Mars, Women are from Venus, Eagles are from America"
QUOTE:
"Please stop that now! It's un-American!"
What Muppet are you?
brought to you by Quizilla